Making Videos is Fun Self-expression!

Do you really think "making videos by yourself" is daunting? ;-)

There are rewards in doing it, that can inspire you, to go out and shoot your own videos.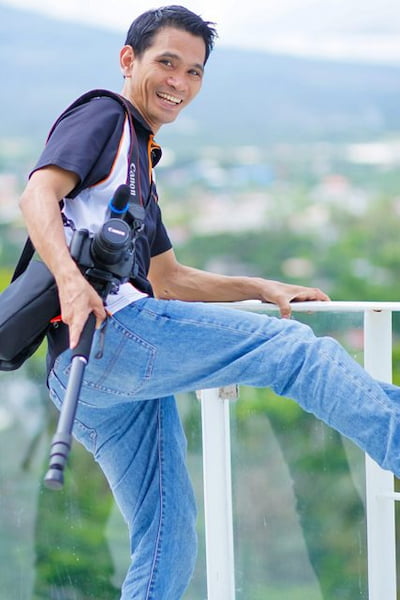 But then, I know how you feel. I've been there many times. You know, making a video from idea... to preparation... to shooting... to recording sound... to dealing with people...

... And then, there's the assembly of materials... the editing... the enhancements... and eventually, the production of final video.

All by myself!

You're right!... It can be tough and quite intimidating. Especially, if you want to make it great.

And what adds to this pain, is the fact that, when you're...
filming real life, or
making reality videos, or
covering an event,
... you do not have absolute control over what's happening. And that, could make you feel uncertain about what to do in the field.

However, making videos by yourself doesn't have to be a pain. Yes, it is challenging...

... But it can be fun and exciting! If you're clear about why you're doing it in the first place.

---
---
---
Why you are making videos in the first place
---

Is it not true that, when you want to make a video, you have something in your head, or within your heart, that you'd like to express?... Think about it...

It's very subjective! And it varies from person to person.

For instance, when you're in the field, maybe you are capturing images and sounds in ways that...
give life to your ideas, or
mirror your mood, or
imply your message, or
evoke certain emotions in your audience.
Whatever it is that you do, you are actually reflecting yourself in your videos.

And your audience can sense it.

So, what does it feel like?


---
Making videos is like a performance
---

Specifically, I like to compare "actual" filming to doing a song performance.

When you're singing, you don't just move your lips. Your lips are moving, along with your head and body, because your heart is feeling so.

Personally, I like the performances of Jason Mraz and Connie Talbot. To give you a "feel" of what I mean about being expressive, go ahead and check out these songs. :-)

Jason's "Beautiful Mess"


Connie's version of "Wrecking Ball"

Personally, I like the performances of Jason Mraz and Connie Talbot. To give you a "feel" of what I mean about being expressive, go ahead and check out these songs. :-)

Jason's "Beautiful Mess"


Connie's version of "Wrecking Ball"

The same is true for "actual" filming, or shooting "in the field": It is not merely a technical act. It is creative expression!

I'm not saying, of course, that you have to sing when you're filming. ;-) But you need to have the same passion—the pleasure of reflecting in your work, how you see, think, and feel.


---
The rewards of doing it by yourself
---

So, "what's in it for you", if you're filming by yourself?

Confidence
I remember my early years of shooting videos... I felt awkward. :-)... I don't know, maybe because I knew there were people who were watching me. I was hesitating in my movements, hehe. :-)

It seemed to me that the very act of filming was a discomfort. I felt I was really out of my comfort zone.

But you know what?... I think we need that—to feel outside of our comfort zones during the production phase. Because, if we keep shooting, we gain confidence in the long run. And we're getting comfortable doing it.

We are now making videos out of fun, not out of fear. Once, we were self-conscious. Now, we are decisive.

Sensitivity
And since you have no one else to look after you, you'll feel the need to be more aware, of what's around you. Not only to keep you safe while working. But more importantly, to do your work well.

You become more sensitive about people you're with when shooting. You become insightful about persons you film. And you develop a sense, of what works with your intended audience.

In other words, you gain better understanding of people.

Creative Direction
You are at the driver's seat. You are "the one" who decides what goes into your video.

You have greater creative freedom. Unlike in big production outfits, where your work may be compromised.

And you handle different production roles, that are, otherwise, handled by other persons.


---
You can express yourself when doing production tasks
---

Remember what I told you earlier about, why we are making videos "in the first place"?

It is because of our desire for self-expression--a motivation of those who value more, the creative aspect of video production.

When making videos by yourself, you can express , or reflect, your individuality in production areas like direction, camera operation, lighting, sound recording, choice of talent and location, and so on.


---
Final Thought

---

Like other things in life, "making videos by yourself", may seem demanding at the outset. And, in a way, it is!

However, if you continue doing it, and keep in mind that, it is your chance for creative expression, you'll feel better... inspired... and excited.

What was once a pain... is now a pleasure. :-)

---
What Is YOUR "Itch", Excitement, or Concern about Making Videos?
There are three situations where you can express, how you feel about, making videos. Which one best describes you?

(1) If you're already shooting your own videos:
- What makes it fun for you? What is your "itch" for doing it?
- Why do you keep on shooting?

Talk about your experiences and insights!

(2) If you've been involved in video shoots, that inspired you to shoot videos as well:
- Do you have fun stories, or unforgettable memories, about any task you had in a production?
- How did it encourage you to shoot videos as well?

Share your stories or memories!

(3) If you dream of making your own videos, but still don't do it:
- What's holding you back from making videos by yourself?
- What do you think you need to have, know, feel, or need to be, before you start pursuing your dream?

Express your concerns!
Read the Experiences, Insights, or Concerns of Others about Making Videos
Click on the links below, to see what others have said, about making videos. They were all written by other visitors to this page... just like you. :-)

A Mom Is Making Videos To Archive Memories

I am making videos to preserve priceless memories about my family... memories that will always bring smile to my face and warmth to the whole family. …
A Production Assistant Wants to Learn Making Videos

I am a production assistant. I occasionally work with a team of event shooters. What I see from our video shoots makes me want to learn making videos. …