4 Creative Thinking Methods to Engage Your Viewer

Creative thinking need not be complicated.

There are simple thought processes that can help us make engaging videos.

Having said that, when I try to make such a video, I still feel somewhat confused and unsure of what to do. Because in my experience, creative thinking can be messy and chaotic. "Complicated", we say.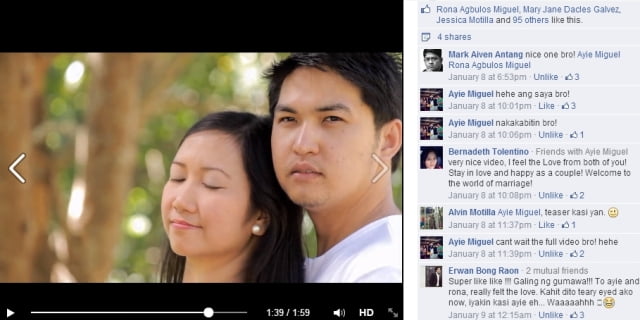 However, as I continue to make videos, I notice some simple thought processes that I'm going through whenever I want to make an engaging video. And I'm sharing them with you.

"Are they effective", you say? :-)

Well, they work for me. Perhaps because of their simplicity.

Anyway, you'll see
a short sample video
of mine that went through these thinking methods. Then, I'll show you also
how my "intended viewer" felt about this video
.
---
Creative Thinking 1: See from the Eyes of Intended Viewer
---

Your intended viewer is the person who is going to watch your video.

The first thing I do when I plan a video is forget my own preconceived notions about it... and try to look at it from the perspective of my intended viewer.

"What is important to her? What does she want to be included in the video?"


"What kind of viewing experience does she want?" Emotionally-moved? Informed?"
Let's say I'll make a short wedding trailer video for my client--the couple. My intended viewer.

It's not yet the full wedding video that they paid me to do. I just want to share something with them on Facebook... a quick teaser trailer of what they can expect from the full video. And I do it for free. :-)

Real Life Example
Now, let's take a real life example...

We have Ayie and Rona, the groom and the bride, now husband and wife... obviously. ;-)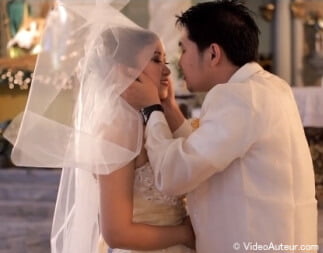 Based on my impressions of their personalities as I filmed them, I figured that Ayie is the sincere type who is not afraid to show his tender feelings.

And Rona is the quiet type but she appreciates seeing the vulnerable side of her groom.

So, I decided that Ayie and Rona wanted to see an "emotionally-moving video" (at least for them)... and I made this wedding trailer for them...


---
Creative Thinking 2: See the Big Picture

---

Now that I know who my intended viewer is and what possible viewing experience that she wants, it's time for me to look at the "big picture" of my proposed video presentation.

To understand the big picture, think of a map. It could be the world map where you can see the different countries. The map is the big picture of all those countries.

Looking at the big picture allows us to see the different parts of a whole.
The same is true for your video, no matter how long or short you plan to make it.

By taking a step back and looking at the big picture of your presentation, you begin to see what elements you can include into it and how you can arrange them in ways that your intended viewer will find engaging.
Real Life Example
Using our sample video, the wedding trailer, my intent was to tease the couple and to let them know that their full video was "coming soon". So, I decided that the following major "parts" could go into the "whole" video...

00:00--00:13 - A sense of place (Seaside).

00:14--00:20 - The groom (Ayie at the seashore).
00:21--00:34 - The bride (Rona dressed up and happy).
00:35--01:03 - Inside the church (Ayie, teary-eyed... Rona, marching down the aisle).
01:04--01:46 - The couple (In different places). Plus, titles (telling us that this is a trailer).
01:47--01:58 - Fun closing (A different feel compared to the preceding shots).
Instrumental guitar music throughout except the closing. (Music by audionautix.com).
... And I chose them because I felt that those are things that Ayie and Rona (my intended viewers) would want to see in a wedding trailer about them.


---
Creative Thinking 3: See the Non-obvious Connections
---

You begin to notice the "non-obvious" connections among things when you...

relax yourself


keep an open mind


keep an open heart


keep your eyes open.
In psychology, they call it "free association". In video production (and film making), I simply call it "being open".

I use this creative thinking method both in shooting and in editing videos. For instance...

I may have an idea of the "big picture" outline of my proposed video. And I know it will serve as my guide when filming. But, when I'm in the field ready to shoot videos...

I loosen up and let my impulses guide me as well.

In other words, I also shoot things that are NOT in the plan. I just happen to see them by chance and I am "open" enough to film them.

The result? Footage that don't belong to my shot list... if I have one :-). But they turn out to be interesting materials during editing.

Real Life Example
"Examples", you say? Sure!

Let's go back to our wedding trailer video and see this part--01:41-01:46.

See the shot of the beach sunset and the quick time-lapse video of the sea waves? I shot them on location the day before the wedding. It just felt right to do it although the shots may not be obviously connected to wedding.

However, I didn't expect that I could use them as the background for the title "Coming Soon". Also, those shots are related to my opening shots--the seaside (00:00-00:13). They all give my intended viewer a sense of place.

So...
Listening to your subconscious impulses, when shooting and editing, will benefit you.

---
Creative Thinking 4: Get the Feel of Experience
---

Now, this one is about what you actually see, hear, and feel as you preview your video during editing. The flow of all the elements that you're assembling.

At this point, the important question you need to ask is...

"Does it feel right?"

The pacing? The cutting? The transitions? The ideas conveyed by the sequence of shots... The whole experience of watching the video from moment to moment?

Here's the thing...

If the whole experience of watching your video, feels right to you from moment to moment, most likely, it will also feel right to your "intended" viewer.
Again, your "intended" viewer that you considered from the very beginning of your creative and production efforts.

Real Life Example
Using our sample video (and if you watch closely), you may notice that I cut to the rhythm and beat of the song that I used for the trailer.

Also, the transition from the shot of Ayie to the shot of Rona (00:17-00:24) just "feels right".


---
Viewers Engaged?
---

Now, the only question left is...

"How did my intended viewers feel about the wedding trailer? Were they engaged?"

Perhaps you'll find out! :-)

Take a look at these Facebook comments. I also uploaded that same video on Facebook and here's the feedback from the audience (with corresponding translations as needed)...

2ND COMMENT - Ayie Miguel: "I'm so happy, Bro!"
3RD COMMENT - Ayie Miguel: "I'd like to see more, Bro!"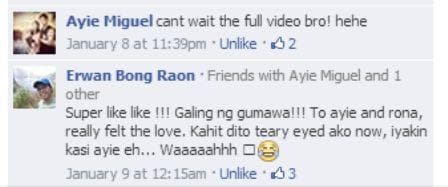 2ND COMMENT - Erwan Bong Raon: "Super like like!!! The one who made this is so great!!! To Ayie and Rona, really felt the love. Watching this now makes me teary eyed, because Ayie is prone to crying... Waaaaahhh. ;-("

Ma Rowena R. Enojo: "Beautiful teaser... You can really feel what's happening... The couple are like movie actors as well... Good job to Alvin Motilla and to the group... Highly recommended."


Joanna Cris Agbulos Agosto: "Can't wait to watch the full video. Beautiful wedding, so moving! Hehe, thanks to the photographers, you're so great and super patient! This was a dream came true for my sister. God bless you."


---
Bottom Line?
---

Even though you're only trying to make your video engaging to its intended viewer, you may find out that your video also connects with other people.

And it's all because of the creative thinking and production efforts that you patiently put into your work. 

A creative video doesn't try to appeal to all people. It doesn't want to go in different directions.

Instead, it tries to appeal to its target audience to become engaging. It tries to go only in that one specific direction.